There are some aspects of your home (such as location, location, location) that are beyond your control. Your home's location and neighborhood will affect the price you can obtain for your home, how quickly it can sell, and much more. But moving outside of that central factor, there are three significant areas that are in your control when you are selling your home: price, condition and marketing.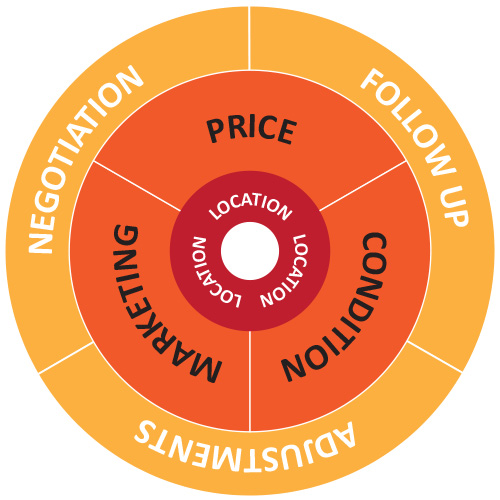 PRICE...
First, we will look backwards to see what buyers have recently been paying for houses similar to your home. This will give us an indication of the current market value of your home. We must then also compare your home to competing listings that current buyers will be considering alongside your home. With this information we will develop a pricing strategy that will allow us to obtain the highest possible price for your home while still selling it within your desired time table.
CONDITION...
As you prepare your home for the market, we must consider potential updates and upgrades to your home to eliminate objections and reduce distractions. This may be by way of minor repairs and upgrades, more significant projects, or staging your home to allow it to show best to buyers. We will develop a plan after walking through your home together and looking at it from a buyer's perspective, to identify areas where we can have the most impact with planned changes.
MARKETING...
A home that is priced well, and prepared well for the market, will not sell if it is not thoroughly and professionally marketed. The balance of this website outlines the strategies I use to market my listings to the widest possible pool of prospective purchasers.
Once we have priced your home appropriately, prepared it well and implemented the marketing plan, there will still be three other areas for us to focus on as we work towards a successful sale of your home: follow up, adjustments and negotiation.
FOLLOW UP...
We will often start to receive feedback on your home as soon as it hits the market. This may be questions from Realtors, questions from buyers, online web views of your property, buyers driving by and picking up a brochure or showings being scheduled. As there are specific buyers that are considering your home, it will be important to follow up with each buyer (or their Realtor) to find out what they did and did not like, what questions they had, what concerns or objections they mentioned, and what they thought of the price and condition of the home.
ADJUSTMENTS...
We will be attempting to have your home in the perfect condition for buyers and to have the perfect list price on your home from Day 1. Sometimes, however, based on the feedback we have received from prospective buyers we may need to make adjustments to the condition of your home (additional improvements, projects, staging, etc.) or to the pricing of your home. It is important to regularly discuss the market feedback we are receiving so that we can make appropriate adjustments to our pricing and marketing tactics.
NEGOTIATION...
When we do receive an offer it will be important to review and discuss all of the terms of the buyer's offer and discuss a negotiating strategy to maximize the benefit to you. Sometimes we will simply be negotiating on price, but oftentimes these negotiations will involve timing, contingencies, personal property and much more.